Info
Poll Everywhere allows you to answer questions in class, vote on polls and automatically get feedback on those questions using your own devicesdevice.
To vote, you have two main options: by opening the poll in a web enabled device (smartphone, tablet, laptop, etc.), or texting your answer to a phone number. Instructions to both are given below the question and the options have a key number you use to vote by text. 
If you're voting by connecting to the web and are on campus, Eduroam is free for you to connect. If you're voting by texting, it will be the price of a text message, or free if you have a message package. If you are participating in a Poll Everywhere activity at home, we recommend that you connect to your WiFi to complete the activity.
Studies have shown that using student response systems like Poll Everywhere in class can help you test your understanding and overcome barriers to it, retain information better and understand it more deeply. 
Expand
| | |
| --- | --- |
| title | Participating in polls |
To participate, you need to be connected to the Internet, or vote by texting. To learn how to connect to Eduroam, if you're at the Universityresponding while on the City campus, please review the Eduroam guide.
When your lecturer asks a question with Poll Everywhere, you will see instructions on how to vote:
1
If you are connected to the Internet, on your device:
Open your browser or download the Poll Everywhere app from Google Play or the App Store.

Go to the web address displayed by your lecturer (pollev.com/name of poll or lecturer).

Choose the option you believe is correct.
2
If you're voting by text message:
Text the keyword to the text number provided in the slide displayed by your lecturer.

Text the option letter you want to vote on (A, B, C, etc.).
Expand
| | |
| --- | --- |
| title | After using Poll Everywhere: checking your Response History |
Answering polls over a long period of time allows you to reflect on the taught content and participate in class. Checking your Response history allows you to see to what polls you've answered and, if they are marked as correct/incorrect, to check on how many correct and incorrect answers you gave. This might be helpful to trace back your participation and when deciding what to remediate or revise. Do keep in mind that you will only be able to see your Response history if you don't delete your browser history.
Open your browser

Go to http://www.pollev.com

Click on the hamburger icon

Check your Response history.

If you have the app installed, open the app and select the hamburger icon from there to review your Response history.
You will only see response history if you have logged into the app to answer questions.
Expand
| | |
| --- | --- |
| title | Registering with lecturers |
Some lecturers will ask for your name, email, and student identification so they can evaluate your responses during and after class. Please note that the majority of polls run at City are anonymous polls.
There are two methods of registration:
Pre-registration
Lecturers may require that you register before responding to Poll Everywhere so they can identify your responses for teaching purposes. There are four ways you can register with a Lecturer's account:
Lecturer registration link - If you have a link from a lecturer, follow the link! They might send it by email, include it in the syllabus, or post it on Moodle. It usually looks something like pollev.com/register?p=0123-abcd.

Find instructor by email - If you know your lecturer's email address, then you can register when prompted via pollev.com/register

Quick registration in class - Finally, you can register during class using a smart phone or laptop. Just go to the pollev.com link that is displayed by your lecturer in class. If your lecturer requires registration, you can simply follow the registration prompt and create a Poll Everywhere student account right there. It should only take a minute, just be sure to use your school email, not your personal email.
In-class registration
You can quickly register your name and email with a lecturer while in class. You will only have to register once per lecturer and after that your name, email, and potentially your student ID will be associated with all your responses to that lecturer's polls (unless the poll says that it is anonymous.) Here's how to register while in class:
When your instructor activates an activity on their PollEv.com page (it looks something like PollEv.com/mrsmith), you'll be asked to register:

If you don't have a Poll Everywhere account, you will have to create one using your City email. If you have an existing Poll Everywhere account, then login from this screen.

Click on the Register button and you'll see a confirmation checkbox.

The registration dialog will disappear and you'll see the lecturer's active poll: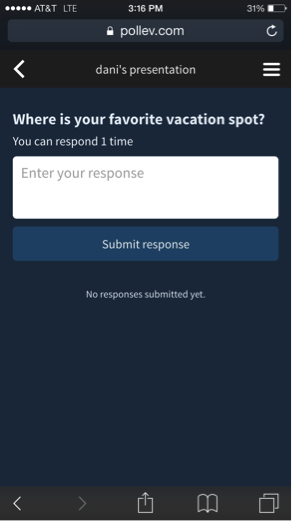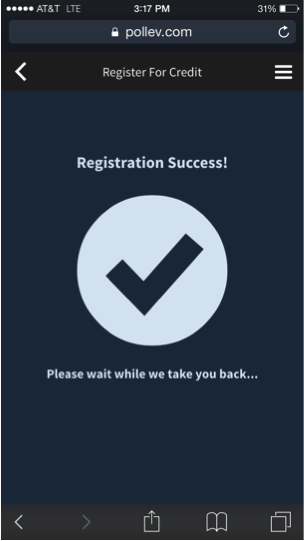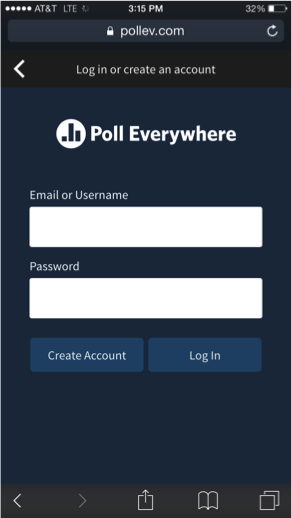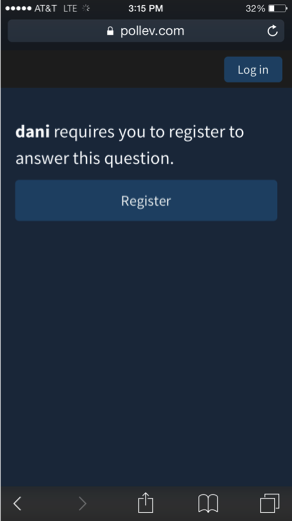 What information can my lecturer see about me?
Unless your lecturer is running an anonymous poll, your name and email will always be available to them next to your answers. If you provide an alternate identifier, they can also see that.
Your full phone number is never shared with them, but in some reports they can see the last 4 digits of your phone number. The main purpose of this is to help verify that your certified phone number is correct. This helps you troubleshoot any problems with getting credit for your answers.
Expand
| | |
| --- | --- |
| title | Help and troubleshooting |
If you need any help with Poll Everywhere:
Check their FAQ page, it might solve your query.

If it doesn't, please log a query with IT Self Service Portal explaining your Poll Everywhere problem and we'll get in touch to work with you to solve it.
...